It's officially summer!! And what better way than to celebrate in the great outdoors with friends, family & fun?! Inspired by our summer game-nights we decided to make an oversized version of a classic! An easy DIY Lawn Game of Dominoes! Add a splash of color that screams summertime and what you've got is a weekend favorite!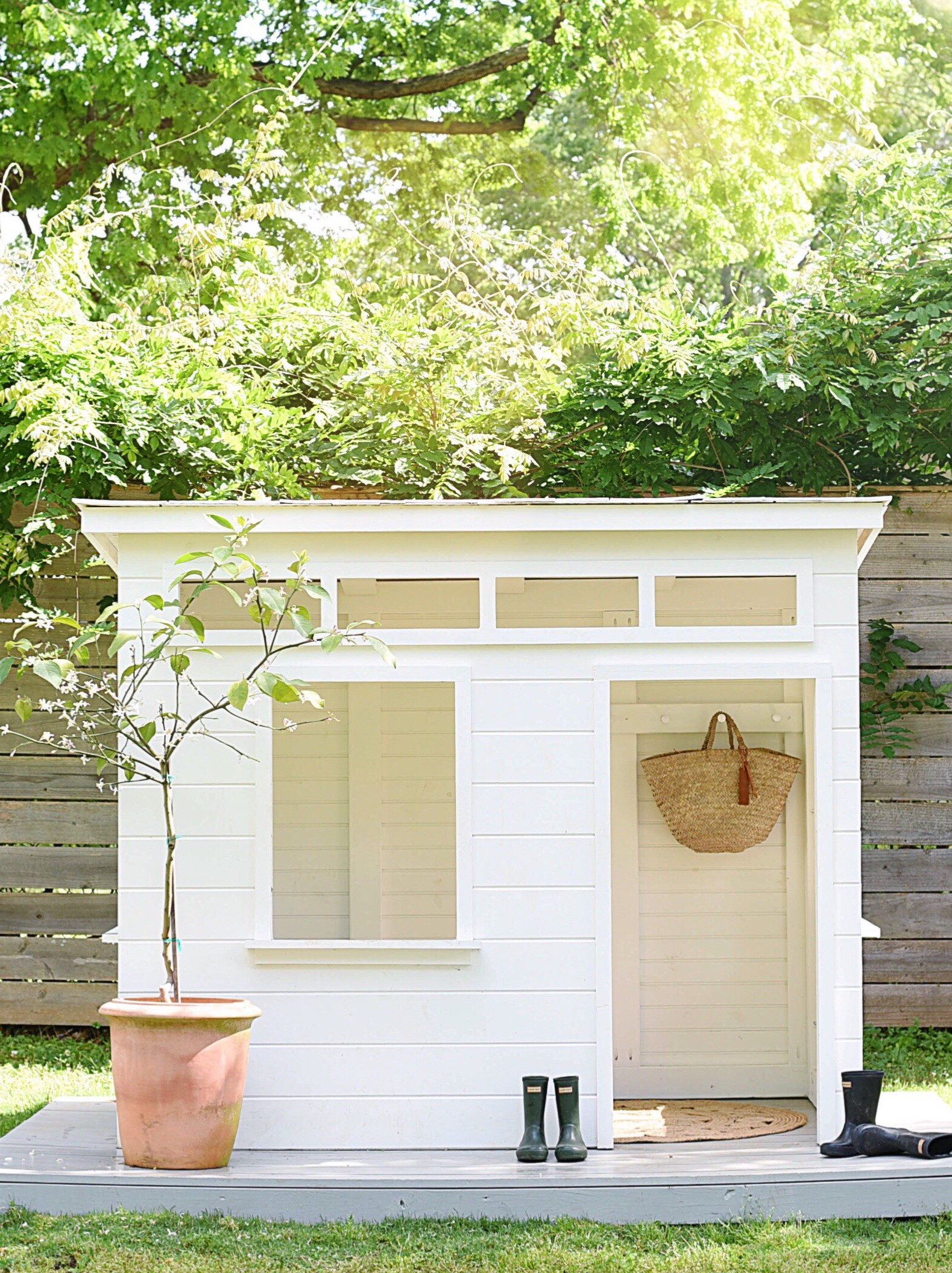 Here's Another Project We Think You'll LOVE!
Click here for all the details for our Modern Playhouse!
This DIY is so easy and simple ~ I promise it'll be a sure-fire hit at your next backyard BBQ!
________________________________________
Materials Needed for a Set of 28 Dominoes:
1 Quart each of Glidden® Paint in the following colors:
in Glidden Paint's Premium Collection Exterior Paint, Flat
Paint Brush
Paint Containers for Mixing Colors
Non-treated Pine Wood
Two 2x6x10
One 2x6x8
Miter Saw or Saw to cut wood
Sandpaper
Pencil
Cardboard for Domino Template
Cutting Tool to Create Domino Template
________________________________________
To Make:
Start by cutting the wood into 28 individual pieces that are 11 inches long:
Using sandpaper, smooth any rough surfaces and edges.
Because our oversized dominoes are made for outdoor use, we chose to use Glidden Paint's Premium Collection Exterior Paint, in flat. One thing we love about Glidden Paint is that you don't have to go through a bazillion color swatches to find the one you like. Instead, they've done all the narrowing down for you, creating a simplified palette that makes color selection a breeze! Which, let's be honest, we'd all prefer spending time enjoying a finished project, rather than wasting endless time deciding on paint colors.
In planning for this DIY we assumed we'd need to paint our dominoes a minimum of two coats, possibly even three since we opted not to waste time and money priming them (this was our first time using Glidden Paint's Premium Collection Exterior Paint). So of course I was jumping for joy when I saw how thick and amazing the coverage was on just the first coat.
And I was even more shocked to see how that the first coat dried with full coverage. Brian couldn't believe I had only given them one coat of paint ~ and given my current case of pregnancy-brain, he kept asking are you sure this isn't two coats?! Needless to say we were more than pleased with the results and decided not to give an unnecessary 2nd coat of paint.
While I worked on painting, Brian created our Domino Template. Cut a piece of cardboard to size, 5.5" x 11". Then trace and cut out 1 1/8" circles and a line in the middle (finished it will look like the green template below). Remember: this is for a set of 28 dominoes, 6 will be the largest number. Once your template is made, use a pencil to trace onto each domino.
Making your individual dominoes look like this:
Once your set is done, enjoy a friendly (or competitive) game of lawn dominoes!!
To store, use a large basket or laundry bag.
Wishing you a summer filled with FUN!!!
Disclosure: This post was sponsored by Glidden Paint through their partnership with POPSUGAR Select. While I was compensated to write a post about Glidden Paint, all opinions are my own.